Flurry of Environmental Bills Passed in California Legislature in 2019 Session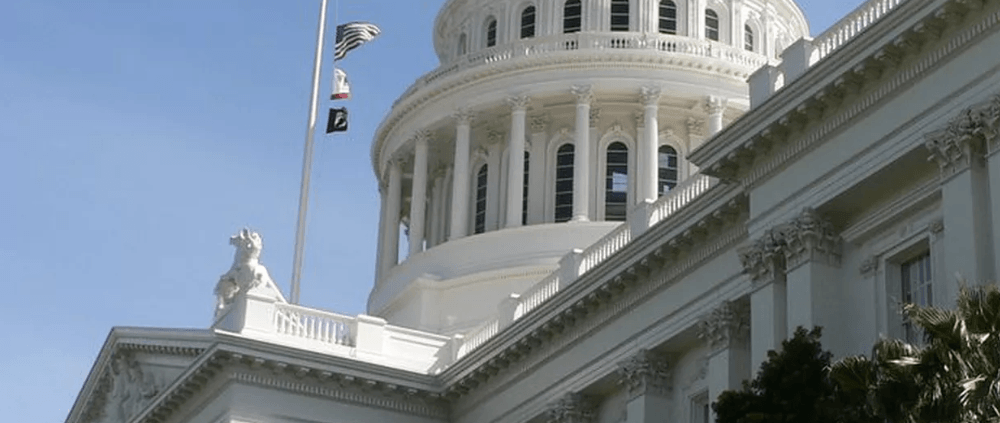 Thanks to an increasingly environmentally-conscious public and pressure on corporations to be responsible producers and make sustainability pledges, 2019 has been a busy year for environmental legislation in California. Here's a sampling of pro-environment legislation that has either been approved or may be revisited in the 2020 session:
Signed by Governor in 2019:
AB 827 – Commercial recycling/organics access 
Requires recycling bins — that are accessible and adjacent to trash bins — to be provided at all businesses already subject to state recyclables and organics laws.
By July 1, 2020, CalRecycle must provide "model signage that commercial and organic waste generators…may utilize to mark the recycling bins."
AB 1162 – Hospitality plastic reduction
If approved, lodging establishments with 50+ rooms will be prohibited from offering "personal care products" to guests in small plastic bottles by January 2023. The law would apply to all other establishments by 2024.
AB 815 – Dual-stream recycling
Encourages jurisdictions to switch from single- to dual-stream (source-separated) recycling, where containers/glass are separated from fiber in curbside recycling programs.
Directs CalRecycle to research the prevalence of source-separated recycling programs in the state.
The law's intention is to use source separation to reduce contamination and increase marketability of materials.
Effective January 1, 2020.
SB 726 – Household hazardous waste reuse
Seeks to "reduce the unnecessary incineration and disposal of hazardous household waste products" (home and yard), 10% of which it estimates could be reused.
It authorizes "materials exchange programs" at local household hazardous waste collection facilities to make "reusable household hazardous products or materials available to recipients."
AB 619 – Reusable containers
Authorizes reusable containers at food facilities.
Authorizes multi-use utensils at temporary food facilities. The utensils must be cleaned, rinsed, and sanitized by the temporary food facility or an approved food facility.
On Governor's Desk or Deferred to Next Session (2020):
AB 792 – Recycled Content Requirements
Plastic beverage containers in the state's deposit program must contain 50% recycled content by 2030.
AB 1593 – California Recycling Market Development Act
CalRecycle will form a Statewide Commission on Recycling Markets and Curbside Recycling, comprised of "public agencies, private solid waste enterprises, and environmental organizations with expertise in recycling."
By January 2021 the Commission will "issue policy recommendations to achieve specified market development goals and waste reduction goals and provide regular feedback to [CalRecycle] on public messaging designed to encourage proper recycling and to minimize contamination in curbside recycling programs."
The operation of the Recycling Market Development Revolving Loan Program was extended from July 2021 to 2031.
Authorization to provide financial assistance (in the form of sale and tax exclusion for qualifying projects) through the California Alternative Energy and Advanced Transportation Financing Authority was extended from January 2021 to 2026.
Rigid plastic containers and bottles will no longer be required to be labeled with an identifying triangular recyclable symbol.
SB 54 / AB 1080 – Solid waste packaging and products 
By 2030, all single-use plastic packaging/products sold or distributed in California must be recyclable or compostable by 2030. be reduced or recycled by 75% by 2030."
Requires, by 2030, "a statewide 75% reduction of the waste generated from single-use packaging and priority single-use products…sold, distributed or imported into the state through source reduction, recycling, or composting."
CalRecycle must "develop incentives and policies to encourage in-state manufacturing using recycled material generated in California."
AB 729 – Carpet stewardship program
Introduces carpet recycling fees, paid by consumers at point of purchase, that are financially linked to the cost of recycling each carpet as well as its post-consumer recycled content; the more environmentally-friendly the carpet is, the lower the carpet recycling fee will be.
Incentivizes consumers and producers.
AB 54 – The California beverage container recycling and litter reduction act
Authorizes $5 million in grants for "up to 5 limited-term recycling pilot projects…designed to improve redemption opportunities in unserved convenience zones."
Relieves grocery retailers from paying compliance fees (if no recycling centers open in their locations) until March 2020.
https://r3cgi.com/wp-content/uploads/2019/10/Screen-Shot-2019-10-10-at-2.09.53-PM.png
970
1000
Janet Barile
https://r3cgi.com/wp-content/uploads/2018/01/R3-full-logo-1-1030x250.png
Janet Barile
2019-10-11 15:41:03
2019-10-11 15:42:24
Flurry of Environmental Bills Passed in California Legislature in 2019 Session