R3 Consulting Group Now Offers:
Disaster Debris Management Planning Assistance to California Cities
No one is ever completely ready to handle a natural disaster, but with our help, you can avoid spending unnecessary funds, resources and time in the event of a disaster. We specialize in creating disaster debris management plans that are unique to your community, meaning you'll have a plan in place when you need it most. Not only that, but municipalities with disaster debris management plans will be prepared in the event of a disaster, meaning time and energy are maximized, along with potential for FEMA reimbursement if protocols are followed. Let us help you navigate through the complicated process of disaster debris planning and make sure your FEMA reimbursement dollars are maximized.
Last month FEMA extended its Alternative Procedures Pilot Program which allows for up to an extra 2% of federal cost share reimbursement on money spent.  The opportunity to participate in this pilot program will be available through June 2018.  There is no better time than now to start planning.
Once we complete your plan and it is reviewed by FEMA for this program, the municipality will be eligible for this additional 2% reimbursement – money that you would have otherwise been spent out of pocket if no plan was in place.
Our plans are:
CalOES Approved
FEMA Approved
Guaranteed to participate in the Public Assistance Alternative Procedures Pilot Program (time dependent)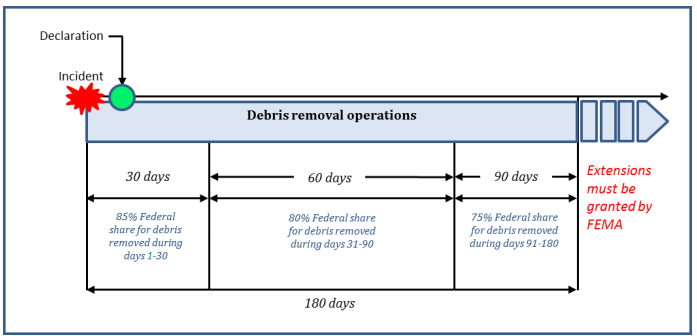 (Above: FEMA timeline of disaster reimbursement)
More About Our Process
We will consider:
The type of disaster(s) that may potentially occur in your community
Your staffing levels and who would play certain roles when a disaster occurs
Your opportunities for procuring various contracted disaster debris management services
Potential sites in your limits that could be used for temporary debris removal and storage
Public information examples
Our process includes:
Meeting with you to obtain base level data and confirm expectations of our services
Providing the jurisdiction with a Draft 1 disaster debris management plan (DDMP)
Reviewing the draft DDMP with the jurisdiction
Providing the draft to CalOES, who will review the plan for completeness
Revising the draft based on CalOES comment and provide a new draft to CalOES (this may take multiple iterations)
CalOES will forward the draft plan to FEMA once it has approved the plan. Once FEMA has approved the plan, you're all set!
DDMPs are essential for:
Saving time and money
Having a quick and effective response to and preparation for a disaster
More efficient use of limited resources, including staff time
"Congratulations – that was an awesome plan. It was the best one I've ever reviewed."   – Melinda Stehr, CalOES
https://r3cgi.com/wp-content/uploads/2018/01/R3-full-logo-1-1030x250.png
0
0
R3C Staff
https://r3cgi.com/wp-content/uploads/2018/01/R3-full-logo-1-1030x250.png
R3C Staff
2017-07-28 20:58:41
2017-07-31 23:26:13
Disaster Debris Management Services Offered