Staff Spotlight: Claire Wilson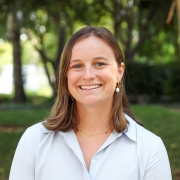 Anyone who knows Claire Wilson, knows all about her joyful, intentional, and charismatic nature. From the moment she started R3 – bringing her background in environmental science and ecology and combining that with her experience in research and data analysis – it was clear that she would do big things. She has a strong background in legislative compliance and community outreach and education, and her expertise is centered around policy development, state law compliance, and solid waste agreement negotiations. Claire has a passion for working with local governments to not only reduce, but also better manage their waste streams.
Over the past four years, Claire has helped 75+ clients manage their hauler contracts, achieve compliance with State and local legislation, and implement new and exciting policies and programs around reuse, foodware, edible food recovery, and zero waste. She has developed an innovative ordinance to reduce single-use plastics on a County-wide level, assisted in the development of personalized plans for outreach, education, enforcement, and secured funding to ensure a successful ordinance implementation, enforcement, and reduction in plastic waste. Claire also drafted municipal ordinances to update and clearly define diversion goals, state requirements, as well as codify such requirements in solid waste franchise agreements.
I took some time to sit down with Claire and chat a bit about her background as well as her exciting next adventure!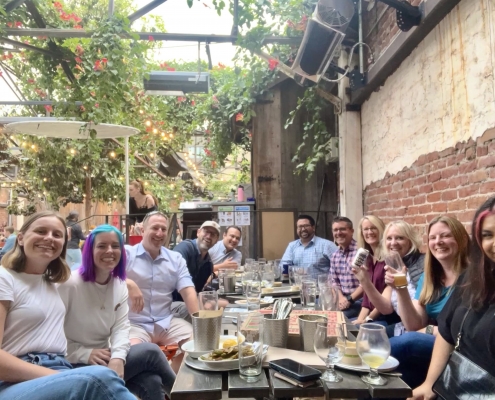 First and foremost – why trash?
I have always known my career path would always be working with the environment, understanding the connections between the land and water and how humans interact with it. However, as I started my undergraduate course work at University of California, Santa Barbara (UCSB), I began to question my intent for the first time. I found it difficult to connect how my classes related to the people and environment in which we live. I decided to study abroad in Thailand, which was one of the first times I saw how policy could directly impact the livelihoods of the people of Koh Chang and provide protections for the environment to limit overfishing and preserve wildlife.
When I returned to UCSB, my renewed sense of passion led me to join an advocacy group called "Fossil Free UCSB". The group's mission was to demand that UCSB, as well as all UC campuses, divest their investment portfolios completely from fossil fuels. The culmination of our events included personally organizing a three-day occupation of a building on campus. I, along with two other students, met with UCSB's chancellor, Henry Yang, to successfully negotiate and secure his endorsement to divest from fossil fuels. Chancellor Yang became the first UC chancellor to support the movement; and in May of 2017, the University of California officially divested its $126 billion portfolio from fossil fuels. This effort was foundational in my understanding of how activism can be used to influence policy as well as the tactics to lead a successful movement. For more information on UCSB's divestment from fossil fuels, read here and here.
What would you consider to be the biggest success while working at R3?
I'd have to say the Reusable Foodware Ordinance project in Marin County, as well as the Zero Waste Plan project for the City of Santa Rosa.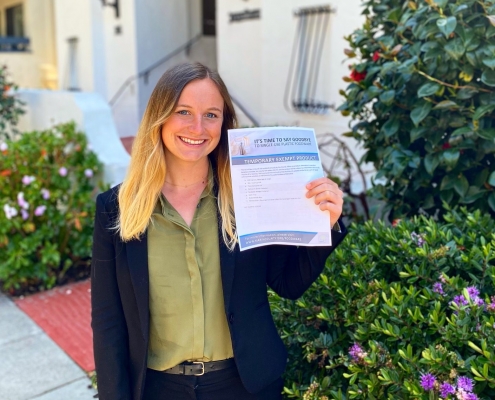 What's next on the horizon for you?
Well – funny you should ask. One thing I have always appreciated about R3 is that the leaders have not only seen my potential but have also encouraged it and supported my growth – personally and professionally. For my path, they encouraged me to explore graduate programs. I ended up applying to only programs in the bay area, with the intention of working full time. One of which was to UC Berkeley's Goldman School of Public Policy – which seemed like a long shot. This school is ranked number one in public policy analysis, according to the US News & World Report's 2021 ranking of the best graduate schools.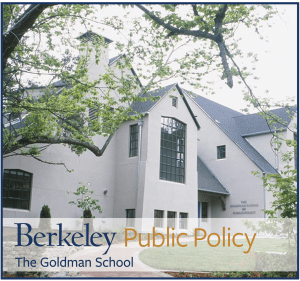 I am both honored and excited to let everyone know I was officially accepted to The Goldman School of Public Policy and will be starting in the fall of this year! Thanks to my time at R3, I know my commitment to future policy work will be centered in the environment and food systems. Food and its connection to culture, the environment, and to all people is profound to me and my vision is clear in how I want to make an impact on my community.
Specifically, I want my work to focus on dismantling the current food system at both a local government and national level by supporting community development through programs that empower all people to grow and consume healthy, fresh food, promoting alternative distribution models that connect farmers with consumers, and lobbying on a state and national level to restructure farm subsidies and incentives to create a more equitable food system.
If you had to choose two meals to eat for the rest of your life, what would they be?
Mezze platter – Mediterranean spread, homemade hummus + baba ghanoush
Pizza – A very specific one from my childhood. It involves a secret family recipe for dough, and sorry but no, I can't share any more details than that!
What do you like to do in your free time?
Hot yoga – daily!
Lake Merritt – farmer's market, biking, walking…
Travel – Portugal + Spain most recent trip. A highlight was the 80-mile walk we did, over 5 days, for the Camino de Santiago.
Congratulations, Claire – we are TRULY going to miss you but we are so confident in the things you'll be able to accomplish and we cannot wait to see you soar!!! Remember us when you're famous 🙂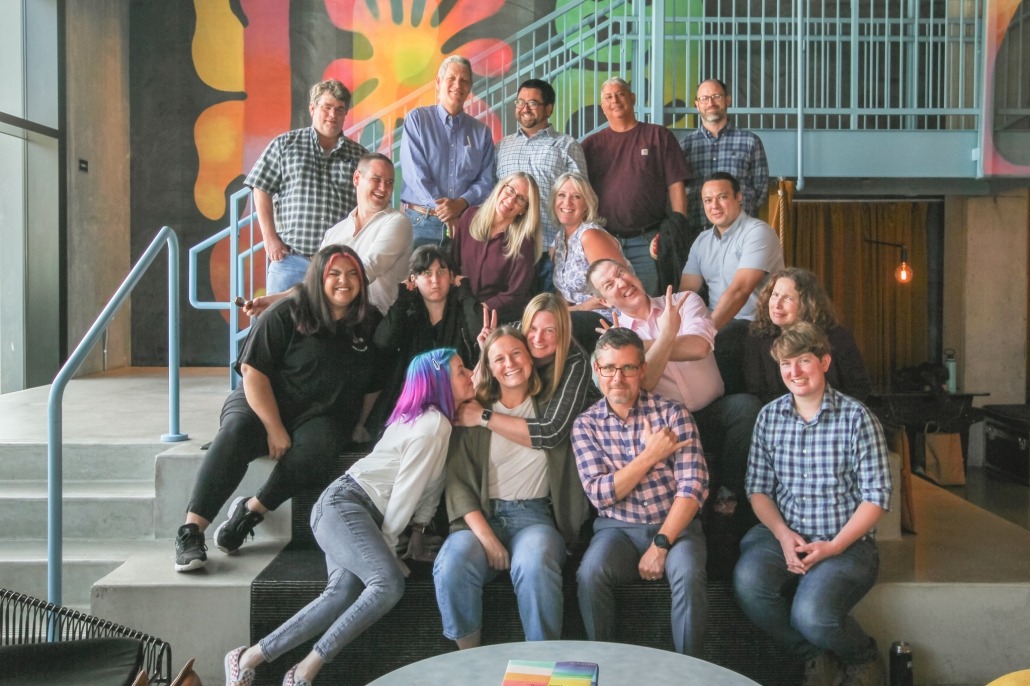 Staff Shoutouts
"My first impression of Claire was her recounting her UCSB carbon divestment strategy experience. Everything about that conversation told me what I needed to know – we had to hire her immediately. I am still not sure what 'it' is, but Claire definitely has it. I have observed first-hand her innate ability to quickly learn, grow, and advance her role in our organization – there's just an effortlessness about her doing her best that is inspiring to be around.

Ultimately, we recognize that Claire is a passionate and talented individual, with the potential for long-term leadership and impact on environmental and sustainability concerns. I never expected Claire to stay with R3 for the long-term (as much as I would, selfishly, love for that to be the case!), so it was important for me to support her career development by encouraging her pursue the next level of education. I am not surprised at all that she was accepted into the best public policy school in the country, and I know she will go on to do great things." 
Garth Schultz, President

"It's not often in life that you come across people that embody positivity even in difficult and stressful times. Claire is one of those people. She brings such an uplifting and spirited approach to everything that she does, and you can't help but feel inspired to get on her level. I am honored to have spent the past four years working with Claire and watching her grow and develop into a great consultant and an even better leader. 

I am extremely proud of her for applying, and getting in, to her first choice for graduate school. I truly wish her nothing but the best in the next stage of her life as she pursues her master's degree. I can say without a doubt that if she approaches her program in the same way that she has during her time at R3 she will be incredibly successful. So, to Claire, I say, thank you for all of your hard work and dedication and good luck!"
Ryan Calkins, Sr. Manager of Internal Operations

Claire's seasoned practicality and critical eye, along with her keen intelligence, have made her an irreplaceable asset to R3. Claire does the work of two people in half of the time it would take anyone else and has inexhaustible energy and enthusiasm – which is evident to anyone who has the pleasure of working with her. Claire never pauses to ask the question 'Is this possible?' and in doing so, she achieves things that would be impossible for anyone else. We are all very sad to see Claire go, but also confident that she will continue to achieve the impossible in the future stages of her education and career."
Rose Radford, Practice Group Lead

"Claire has been an incredible asset to the R3 team – she is always the first to jump in and lend a hand on a project, share an update at staff meetings, and offer guidance when questions come up in group messages. Her optimism is contagious, and I wish we would have had the chance to work on more projects together at R3. I was so impressed at how she was able to jump in towards the end of projects and still not miss a beat on some complicated engagements. Happy trails Claire – though I get the distinct impression we'll be seeing you further on up the road!"
Nate Forst, Business Strategy Director
"With some people you quickly connect and easily communicate – and even though I'm an extroverted introvert, Claire and I are kindred spirits and I felt that connection from early on. Not only does Claire do incredible work, she also truly brings the warmth, heart, and soul to the organization. Claire, I hope you get everything you want out of your program and that you're able to be the change agent you desire surrounding food policy. I cannot wait to see the difference you are going to make – you are exactly what the future needs and you give me great optimism of what is possible."
Debra Kaufman, Sr. Managing Consultant
https://r3cgi.com/wp-content/uploads/2022/07/Cover-Photo-Staff-Spotlight-CW-scaled.jpg
863
2560
Peggy Paulsen
https://r3cgi.com/wp-content/uploads/2018/01/R3-full-logo-1-1030x250.png
Peggy Paulsen
2022-07-08 17:45:41
2022-07-08 19:18:57
Staff Spotlight: Claire Wilson